Learn about Wildlife at Home or at School
For more than 35 years the Alaska Department of Fish and Game has worked to support educators teaching about Alaska's wildlife and habitat. Now, more than ever, engagement in the outdoors with easy-to-use, place-based lessons and materials will help your students connect with their place, families, and the natural world.
**For even more amazing teaching resources, click on the Teacher Resources page!
Tracks and Animal Signs
Check out the different ways you can learn about animal signs!
Furs
Learn about the amazing similarities and differences of the fur on Alaska's Animals with these resources.
How to videos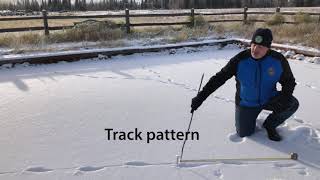 Learn how to take pictures of animal tracks so you can document them or seek help with identification.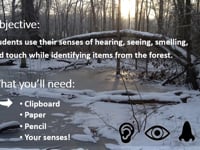 Students and teachers learn from observing nature in the Mat-Su Valley.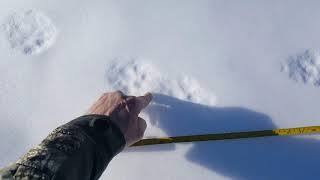 Join Wildlife Education Specialist, Mike Taras in Fairbanks and learn how to tell a story from the tracks animals leave behind.
Activities for Home or School
Returning and Emerging Wildlife
Birds are back
The Alaska State Refuges are special places where migrating birds nest or just stop over. Here are a few guides for adults or students to learn more.
Bird Quiz (PowerPoint file 5,109 kB)
Learn some common bird calls and test your knowledge.
Wood Frogs
This time of year wood frogs are croaking their song all over Alaska. They can be found even in the busiest places in Alaska. Test your wood frog knowledge by their 'song,' learn about their life cycle and their amazing winter survival adaptation.
Skin and backbone of wood frogs
Print off 2 copies of the frog pages. On one page use pasta to glue on a skeleton, on the second page create the skin of a frog. It can be a real one or one from your imagination. Remember, you might have to explain how the frog's color helps it to camoflauge! Cut them out and paste or staple them together. Now you can see its skin and bones!
Sea Mammals
Learn about the impacts of trash on wildlife with Fish and Game biologist Sue Goodglick and a video, 'Trash Talk'
Marine Mammals and Debris (PowerPoint file 134,487 kB)
Presentation by Sue Goodglick. This is a large file and may take a while to download.
E-Learning
Interactive Lessons
Interactive Lessons
Google slides that are interactive worksheets and ready to use. Copy and save to your computer to adapt them for your students.
Wild Wonders Wild Foods
Kids (and adults) can work through a series of challenges that feature Alaska's Wild Foods! Teachers can direct the entire class to work through guided instruction or assign the activity independently. Its fun to learn about the nutrition and abundance of Alaska's Wild Foods.
Early Childhood
Grow As We Go!
Some animals begin their life looking very different. Color and cut out the cards for this fun activity and place their growth stages in order. Which animal has the most stages and who has the least?
Worksheet
Videos and Media for students